Anti-Semitism Hurts So Badly That It's Hard To Put It Into Words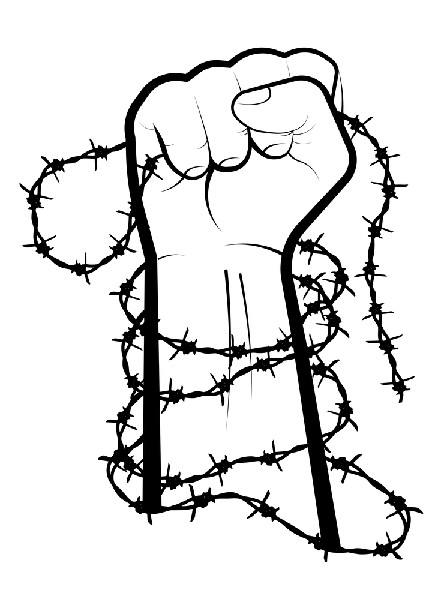 My last post
was about the misuse of the word "ironic", how people confuse it with "coincidence", and that its real meaning is when the opposite of what you expect occurs.
It's quite ironic then that a writer like me would struggle to put into words how badly anti-Semitism hurts.
For one, so many other writers have beaten me to it, composing themselves in such a short period of time to craft terrific pieces.
For another, the subject of anti-Semitism is so fraught with emotion that I've just been too damn overwhelmed to find the nerve and focus to write about it.
Finally, it's a controversial subject, which means I have to choose my words carefully.
Here goes…
A Month Full of Hate
The last month has been a rough one for us, characterized by high-profile figures spreading anti-Semitic messages followed by deer-in-the-headlights responses by the powers that be.
On October 7, Kanye West kicked off a series of anti-Semitic tropes, including lowlights like:
"I'm a bit sleepy tonight but when I wake up I'm going death con 3 on JEWISH PEOPLE"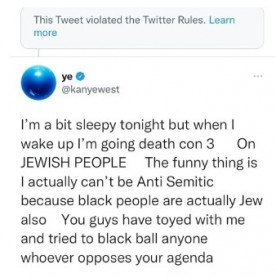 "I've been wronged so many times by Jewish businessmen…They're taking money out of my children's mouths and putting it into their children's mouths!"
"This ain't a game. Imma use you as an example to show the Jewish people that told you to call me that no one can threaten or influence me. I told you this is war. Now gone get you some business."
On October 20, Kyrie Irving tweeted his support for Hebrews to Negroes: Wake Up Black America,
a film rife with Jewish hate, lies, and downright factual inaccuracies.
On October 29, during the Georgia Bulldogs/Florida Gators game, the words
"Kanye is right about the jews!!!"
projected onto the stadium's exterior and then on a nearby building. That same day,
Irving defended his tweet and refused to apologize
in a postgame press conference, following the Brooklyn Nets loss to the Indiana Pacers.
From No Response to Poor Response to Saving Face Response to Ridiculous Response
As much as those statements hurt, what hurts worse is how the organizations with the most influence were so slow to respond.
That is the bigger story.
The message is: It's just anti-Semitism, the Jews are used to it, so no big deal.
No Response

Adidas, who had a multi-billion dollar shoe and apparel partnership with West was mum for nearly three weeks and had the gumption to
set release dates
for the new line of his Yeezy sneakers. The Gap and Foot Locker took no action for even longer.
Adam Silver, the commissioner of the NBA, remained tight-lipped about Irving for six days.
Poor Response

Though Gap decided to sever ties with West, it announced that it would still sell its remaining Yeezy inventory.
Steve Nash, who was relieved of his coaching duties this week—not over the Irving controversy, but because he's bad at his job—
delivered this tone deaf response
before he got sacked:
"I just hope that we all go through this together. There's always an opportunity for us to grow and understand new perspectives. I think the organization is trying to take that stance where we can communicate through this. And try to all come out in a better position and both more understanding and more empathy for every side of this debate and situation."
What bullshit.
There's no every side, debate, or need to understand new perspectives. Nash was served up a softball and whiffed in breathtaking fashion. There was an opportunity for him to call out his star player and denounce anti-Semitism, but he copped out.
Saving Face Response

Yes, Adidas, Foot Locker, and Gap broke up with West. Yes, the Nets and Irving
announced yesterday
that they were pledging $500,000, "...toward causes and organizations that work to eradicate hate and intolerance in our communities."
And yes,
Adam Silver finally released a statement yesterday
. But A) It shouldn't have taken this long, and B) None of this would have happened if not for the involvement of the
Anti-Defamation League (ADL)
and its unrelenting commitment to fighting hate.
Ridiculous Response

Talk about a developing story.
Irving finally addressed the press and offered zero apology
to the Jewish community or ownership of fostering anti-Semitism. He was subsequently suspended without pay by the Nets, and the Anti-Defamation League rejected his $500,000 pledge.
Most disappointing to me is the silence from the NBA Social Justice Coalition. This crucial arm of the league empowered its players in ways we've never seen before after the slayings of George Floyd and Breonna Taylor and the shooting of Jacob Blake. Playoff games were postponed just hours before tipoff because players vocalized that systemic racism was bigger than the game of basketball. It was a groundbreaking, inspiring, and seminal moment.
This could have been another one.
The NBA Social Justice Coalition
lists as one of its priorities
: "Awareness: We use the NBA platform to bring attention to critical social justice issues."
What about using the platform to address anti-Semitism? Why is there an asterisk for Jews?
Social action was instead relegated to the brave
Nets fans sitting courtside wearing Fight Anti-Semitism shirts
, an island of advocates, staring down Irving as he dribbled by. It was left to
Charles Barkley
when he said, "I think the NBA dropped the ball. I think he should've been suspended…Adam (Silver) is Jewish. You can't take my $40 Million and insult my religion."
A Brief History Of Anti-Semitism
Jewish bigotry is nothing new. It lives in plain sight, and the incidents of the last few weeks are but a microcosm.
Historical perspective concerning the oldest form of hate is crucial, as outlined by
ADL's A Brief History of Anti-Semitism
.
For millennia, dating back to the dawn of Jewish history, Jews have experienced persecution for their refusal to worship the idols of the Middle East kingdoms and for not accepting Jesus as the Messiah. We were prohibited from holding positions in government and blamed for the Bubonic Plague. We were burned alive because we were falsely accused of using the blood of Christian youth to make Passover matzoh and for desecrating Communion wafers. We were massacred during the Crusades, and we were the subject of "The Jew and Their Lies", a pamphlet written by Martin Luther, the leader of the Protestant Reformation. We couldn't own land, and the only jobs available were as moneylenders. 60,000 of us were murdered during the Pogroms and 6,000,000 more during the Holocaust.
Today, Anti-Semitism is widespread in Europe and forcing Jews to leave the continent in record numbers. Mounting criticism of Israel and the right for Jewish self-determination have given cover to people to attack Jews and Jewish institutions around the world.
The number of anti-Semitic incidents
hit an all-time high in 2021
, up 34 percent from the previous year, and the trend has continued in 2022. Two days ago, the
Jewish Community Center of Metropolitan Detroit was evacuated because of a pipe bomb threat
.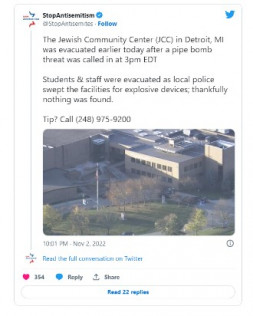 As I was writing this,
the FBI was warning all synagogues in the entire state of New Jersey to be on high alert due to a broad threat
.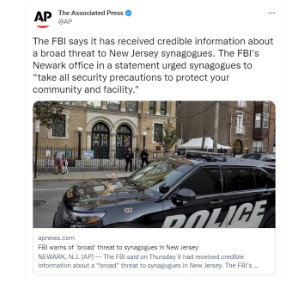 New Jersey Rep. Josh Gottheimer said
"I am deeply concerned and outraged by today's alert from the FBI. This is what happens after years of antisemitic comments from public figures, including, most recently, Kanye West, Kyrie Irving, and others."
If you don't think this is true, consider that following West's tirades,
hate groups perched on a Pacific Coast Highway overpass in California
, heiling Hitler while displaying a giant banner reading, "KANYE IS RIGHT ABOUT THE JEWS."
The Hurt Doesn't Go Away
Similar to the frequency of gun violence, I've run the risk of normalizing anti-Semitism as a coping mechanism.
It doesn't work because my tolerance for pain and trauma isn't that high.
When I read an alert about another Jew attacked on the street for wearing a yarmulke, or another swastika spray-painted on a shul, or another rocket fired at Israeli citizens, I'm 12 again, and I see and hear the man in the Tom Thumb parking lot in Dallas roll down his window and yell, "You fucking kike!" at my Bubbie for parking in an open spot he assumed was his. "You must be Jewish because only a kike would do that."
I see and hear that towering upperclassmen from high school snarl, "They didn't kill enough of you, Christ-killer."
I see and hear the hundreds of people who've told me, "Yeah, you look Jewish."
And when I see and hear that
#IStandWithKyrie
(co opted from the I Stand Against Anti-Semitism movement) is the top trend on Twitter, and former WNBA star, Candice Parker, talk out of both sides of her mouth, criticizing Irving with the disclaimer that she believes he's a good person, it hurts like hell.
What Do I Want?
I want the NBA, not just the Brooklyn Nets, to launch a campaign against anti-Semitism.
I want global brands on their own to repudiate anti-Jewish celebrities.
I want leaders to emphasize that bigotry is perpetrated by white supremacists and so-called progressives.
I want to feel safe and never have to feel bashful about my Jewish pride.
If none of this happens, if responses to anti-Semitism have to be coerced, if there's no proactivity but only half-measures, well, I guess we'll just have to fight hate on our own.
After all, we have plenty of experience.
About the Author, David Telisman
I am a Writer and Content Creator, and I work with businesses to inspire their customers to buy from them. I believe that my clients deserve to feel proud of how their content marketing looks and what it says, and I deliver by providing expert copywriting and marketing solutions.

Subscribe to our blog
and YouTube channel, and follow us on Facebook and LinkedIn.
Nov 4, 2022
by