The End of Innocence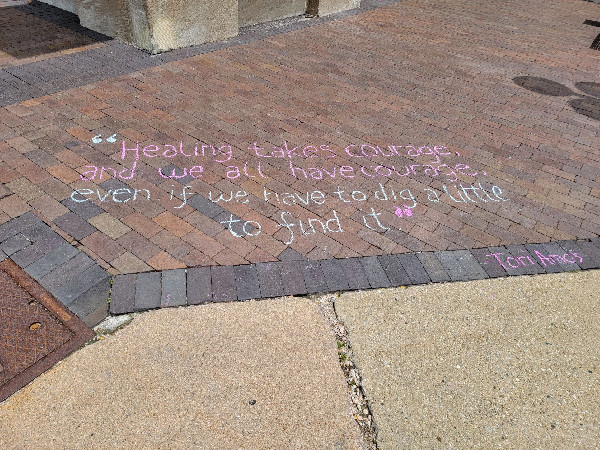 I took this picture today, leaving an appointment in Downtown Highland Park
When he heard the loud booms, my 9-year-old son jumped up, sprinted for his life, and dove toward us. My wife shielded him and walked him back to safety.
No, we weren't at the Highland Park 4th of July parade. I'm referring to the thunder storms from Tuesday night that bled into the pre-dawn hours of Wednesday.
No, my son wasn't in danger, nor was he the target of semi-automatic rifle bullets like the people in downtown Highland Park who waited for two summers for their parade.
We weren't there. We were invited, but we weren't there, having already set our chairs down, reserving our spot for the Northbrook parade that would be canceled like so many others in Chicagoland.
We're lucky. Really damn lucky that we were 4.9 miles away in our house at 10:14am, that the only sounds we heard were the sirens from police cars and ambulances from Northbrook, Wheeling, Buffalo Grove, Glenview and Deerfield flying in to assist their fellow North Shore city, that my son quavered, "The thunder sounds like shooting," rather than experiencing the live, chilling staccato of gunfire.
This isn't a case of stolen valor. The line of trauma that separates the people who were there and my son is thicker than a concrete slab. But it demonstrates the size and scope of a mass shooting when it happens in your community, and though I live in Northbrook, I consider Highland Park—where many of our friends and family live—part of our community.
This was always a possibility. If it happened in Newtown, Parkland, Buffalo, Uvalde, and countless other places, why couldn't America's longest running horrorshow make a tour stop here? One of my dirtiest coping mechanisms following mass shootings was thinking
at least it didn't happen here
. Even when the news broke on Monday, I tried rationalizing, attempting to put it in perspective that o
kay, it's not that bad because it's not a school shooting, and it's not in Northbrook.
It's come to that.
But it was here because I've walked and driven the streets of downtown Highland Park, because the first restaurant we dined at in over a year following the outbreak of the pandemic was Country Kitchen, because friends who live in Northbrook were there and witnessed blood spatter and children separated from their parents.
We don't discuss gun violence with my younger son unless we have to. You see, he's only a 5th grader, who's affable and not anxious, and the kind of kid who wakes up smiling. But we had to on Monday. It was too close. The killer was at large, and we stayed inside with the doors locked. All 4th of July events were expressly canceled. My wife and I were scrolling through the people we knew were there.
And the sirens.
Rarely do we watch the news when our boys are home, but this time we had to, though we turned it off as the anchors cued up the TikTok videos capturing the sound of the gun and the video of the stampede. We didn't cancel our plans to host close friends for dinner because we needed to be with them. When the shooter was finally apprehended, our moods shifted, and we clung to the relief. Still, despite the Village of Northbrook's messages urging residents not to set off fireworks, some people did, and my son, normally an enviable sleeper, stayed awake, scared.
The job of parents is to protect their children. We have the luxury of guaranteeing their safety because of the desirable community we live in and because most of their fears are similar to those of our childhoods. Our parents quelled our catastrophic thinking because it was the stuff of fantasy. This is different. There have been over
314 mass shootings
this year in America. Today is only day 188. This easily answers the question: How could this happen in a municipality like Highland Park? I'm still searching for the answer to why there are only seven states with assault weapons bans and how Illinois, with a majority democratic General Assembly, isn't one of them.
Though sleep came to my son in fits and starts Tuesday night, he woke up excited to go to camp after it was canceled the day before. My wife and I, however, have noticed a difference. He's not the same boy he was before Monday. A piece of his innocence is prematurely extinguished, and the light in his eyes is a little dimmer than it's always been.
About the Author, David Telisman
I am a Writer and Content Creator, and I work with businesses to inspire their customers to buy from them. I believe that my clients deserve to feel proud of how their content marketing looks and what it says, and I deliver by providing expert copywriting and marketing solutions.

Subscribe to our blog and YouTube channel, and follow us on Facebook, LinkedIn, and Instagram.
Jul 7, 2022
by