Simone Biles Sticks The Landing On Mental Health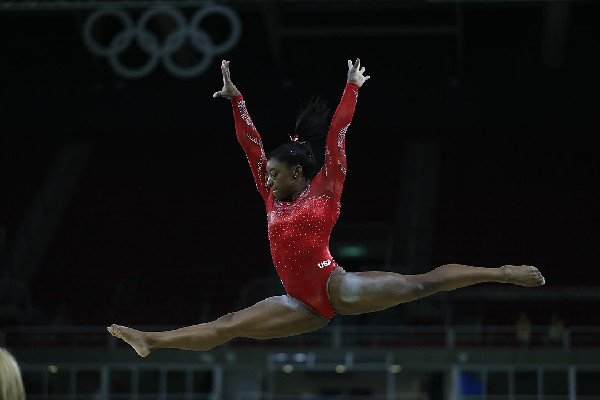 By Fernando Frazão/Agência Brasil
Simone Biles is human.
Not in a she-didn't-score-a-perfect-10 during her gymnastics team finals performance way, as sports clichés go. She's human because her body of work, example-setting, celebrity, and sexual abuse survival caught up with her.
Her body and mind said, "Enough. You don't have to entertain the world at the expense of your health. You've proven your greatness, and it's time to take care of yourself for a change."
Her actual words
were:
"I say put mental health first. Because if you don't, then you're not going to enjoy your sport and you're not going to succeed as much as you want to. So it's OK sometimes to even sit out the big competitions to focus on yourself, because it shows how strong of a competitor and person that you really are — rather than just battle through it."
For the moment, she's still undecided if she'll continue to compete in the individual events, but that's immaterial compared to the example she's setting and the support she's received when it comes to the mental health conversation.
Two of her largest sponsors, Athleta and Visa, have her back,
publicly praising her decision
. Biles is the latest professional athlete to open up about mental health, following other athletes like Naomi Osaka, Paul George, and Brandon Marshall (one of the first to do so in the modern era).
What can't be overlooked, however, is that in addition to recognizing high-profile figures, companies have to also take care of their employees.
Business Insider
reported on the top companies that ramped up mental health services during the pandemic, and it's worth noting that neither Athleta nor Visa were listed among them.
Workplace Mental Health Reckoning
I've written before
that one of the silver linings of Covid is that it has forced a mental health reckoning, causing businesses to invest more in the wellbeing of their people. Hindsight is 20/20, but looking back when I worked for various employers, I wish I'd had the wherewithal to advocate for myself and address my mental health struggles with the appropriate people.
What The Experts Are Saying
It's heartening to learn that companies are stepping up and listening to the experts like clinical psychologist Renee Schneider, PhD, Vice President of Clinical Quality for Lyra Health and Anne Richter, RN, MBA, Co-leader of the North American Health Management Practice for Willis Towers Watson, who recommended the following strategies
in an interview with the American Psychological Association
:
Training managers to schedule video calls with employees whenever feasible to look for signs of anxiety or other emotional strain rather than only catching up by phone, says Anne Richter, of Willis Towers Watson. "Did you actually look at them?"


Providing education that a seemingly work-related change, such as missing deadlines or turning in subpar work, may signal other concerns, says Renee Schneider, PhD, of Lyra Health, who advises that supervisors take a direct approach and ask employees regularly how they are holding up.


Establishing a central mental health services contact, one who can even make appointments, Richter says, so employees don't have to figure out where or how to get care.


Boosting the number of mental health visits that an employer will cover. "They're seeing that employees really need a full dose of care," Schneider says.


Delaying job evaluations or not tying evaluation results to consequences such as pay, says Schneider, a move that she applauds. "During this pandemic, additional stress is not what we need."


Offering mental health days, a move that Schneider says all employers should consider if they don't already.
Simon Biles made it loud and clear that even on the world's largest stage, her mental health was more at stake than winning gold.
You have every right to protect yours.
About the Author, David Telisman
I am a Writer and Content Creator with a passion for mental health awareness and advocacy. I have written extensively on the subject, in addition to serving clients in other verticals. I understand that you deserve to feel proud of how your content marketing looks and what it says, and I deliver by providing expert copywriting and digital marketing solutions.
Subscribe to our blog
. Follow us on
Facebook
,
LinkedIn
,
Instagram
and subscribe to our
YouTube channel
.
Jul 29, 2021
by